Come Sell Us Your Vehicle - Nucar Mazda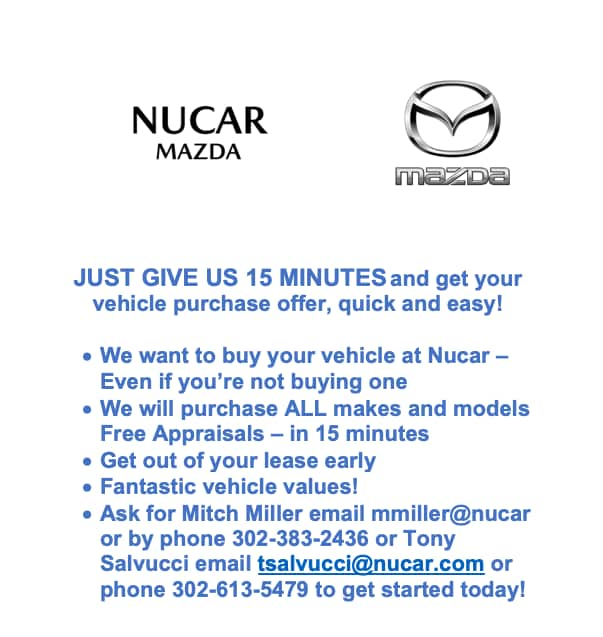 Learn About Selling Nucar Mazda Your Vehicle
We Buy Cars
Nucar Mazda is always looking for high-quality used cars to add to the inventory at our Used Car Super Store in New Castle, Delaware. We will buy your car even if you don't buy a vehicle from us. Our team of highly-trained appraisers and certified mechanics will look over your vehicle to offer you a fair market value for your vehicle. By inspecting your vehicle in person we can more easily assess your cars exact condition and other variables that can't be determined by a computer. Come see us to see how much your car, truck, or SUV is worth. If you're here for service just ask for a sales manager and get a purchase value while you're in for service.
How This Works
No Obligation - We'll buy your car without you buying one from us.
It's a Free & Fast Service - We'll respect your time & no cost involved.
Appointment - Recommended but not necessary.
Expert Appraisers - Feel free to ask any questions about the process.
Receive Your Offer - Sell or trade your car to us.
Quick Payment - Get a check quick
Now, just bring your car to Nucar in New Castle, Delaware and one of our associates will help you get the process started and will get the information needed. Our expert appraisers will get your vehicle appraised. You should receive your appraisal in 15 minutes or less. You may browse our extensive new, certified, and pre-owned inventory or enjoy our customer lounge with T.V., Wifi, coffee, etc.
What Do I Need To Bring?
Title or loan payoff information
Valid registration & drivers license
Keys, remotes, manuals, etc.